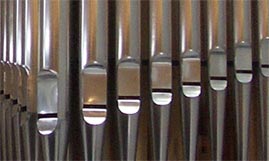 James Lloyd Thomas' extensive experience as an organist, conductor, teacher and examiner enables him to offer individually tailored and comprehensive tuition to each of his organ pupils and to help them attain their goals as organists, regardless of age or level. Details of James' organ teaching can be found below.
Eligibility: Lessons are open to all ages and ability levels.
Location: James is now teaching in Dorset, where he is director of music at Holy Trinity Weymouth. If you are interested in taking lessons with James please contact him to enquire.
Content: James' teaching is tailored to each individual pupil and encompasses all technical and musical aspects of playing the organ. These include lesson-by-lesson training in technique, keyboard skills (e.g. sightreading, transposition), graded tuition in registration and organ management, guidance in accompanying church services and preparation for all aspects of graded and RCO examinations. James is able to teach the entire repertoire with historically aware interpretation and to provide detailed advice about practice methods and performance techniques for increasing confidence.
James' lessons also cover other important aspects of organ playing including improvisation, relaxation techniques and biomechanics. He also offers training in conducting and choral direction, either as part of, or independently from organ tuition. This training often proves particularly helpful to young organists who are considering applying for organ scholarships at Oxford or Cambridge. For more information about the additional coaching that James can offer to help with the non technical aspects of playing the organ, please visit the further coaching section.
Availability: James' teaching schedule during the week is fairly busy, but please contact James and he will make every effort to accommodate you.
Cost: James' standard rate for tuition is £40 per hour (for new pupils, payment is required in the form of a cheque to be sent by post at the time of booking). A 5% discount is available when booking a course of 6 lessons.