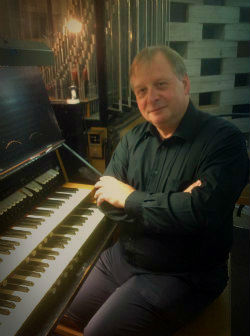 James Lloyd Thomas
ma frco ftcl gtcl(hons) lram pgce
James Lloyd Thomas hails from the West Midlands and while at Halesowen Grammar School was awarded the junior organ scholarship at Birmingham Conservatoire to study with George Miles. Later, James gained a place at Trinity College, London where he took a particular interest in accompaniment and conducting. He won prizes and scholarships and went on to graduate with honours, enabling him to embark upon postgraduate study. He chose to continue his musical studies at Trinity College and went on to complete his PGCE at London University.
James holds fellowships from Trinity College London and the Royal College of Organists, as well as a Licentiate in Teaching from the Royal Academy of Music.
Over the course of his career, James has built up a wealth of experience as an organist, teacher and choral and orchestral director. He has studied the organ with teachers including Christopher Stokes, David Sanger, James Parsons and Margaret Phillips and has extensive recital experience both in the UK and overseas. He has given recitals in most British cathedrals and major parish churches, has been a finalist in international competitions and has made numerous recordings. In addition, he has held major church appointments in Grantham, Shrewsbury and at St Mary's Bourne Street.
James' teaching career led him to Oundle School, where he combined the roles of organist and teacher as director of chapel music, and subsequently to positions as director of music at Kingston Grammar School, Christ College Brecon, St. Leonard's-Mayfield School and Lingfield Notre-Dame. He has played and taught the organ throughout, as well as conducting various orchestras and choirs and taking on further postgraduate study; his academic research and performance featured the German Romantics Ritter and Töpfer.
More recently James has held positions as organist and director of music at Saint Paul's Church, Brighton, organist to the University of Sussex and director of the Sussex University Chamber Choir, the Ravenscroft Singers and Canticle Chamber Choir. He went on to positions as director of music at the Harrow International School and cathedral organist in Hong Kong, and as organist and director of music at Christchurch Cathedral in Nelson, New Zealand, before returning to the UK and subsequently taking up his current post as director of music at Holy Trinity Weymouth.
James teaches the organ privately but has also tutored for St Giles International Organ School, The Royal College of Organists' (RCO) Academy and the Royal School of Church Musicians' (RSCM) national courses. He has for many years been assistant director of the Oundle for Organists summer courses where, in addition to teaching the organ, he teaches conducting and other aspects of choral direction to young organists and prospective Oxford and Cambridge organ scholars.
In all his teaching, James' infectious enthusiasm and direct approach combined with his knowledge and experience ensure an enjoyable and productive learning experience. If you would like to know more, please contact James.