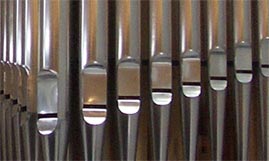 Look no further for a quick guide to James Lloyd Thomas' services as an organist and teacher.
What services do you offer?
James is an active and experienced organist and conductor. He is available for concerts and to accompany church services and ceremonies (such as weddings, funerals and Christenings). He is based in Dorset in the South West, where he is director of music at Holy Trinity Weymouth. James offers organ tuition and conducting coaching on an individual, shared (for beginners) or group class basis. James also gives lectures and masterclasses to music clubs and groups. Please visit the organ lessons, further coaching and recitals and services sections of the website for more information.
Who can have organ lessons?
All ages and standards, from complete beginner to experienced professional can benefit from James' organ tuition.
Can I share my lessons?
Beginners may find that they wish to share lessons, and this is possible on request. However, as you develop as an organist and go beyond learning basic principles, your lessons will need to be more individually tailored so it will be more beneficial for your lessons to be on an individual basis. If you are part of a group of people of a similar standard wishing to take organ lessons, James can offer lessons to groups of multiple participants. Please contact James to discuss this option.
How much do you charge for organ lessons?
James' basic rate for organ lessons is £40 per hour. A 5% discount is available to pupils booking and paying for a course of 6 lessons in advance. The standard rate will vary for shared lessons or group classes and for lectures.
How can I pay?
For new pupils, payment is required in the form of a cheque to be sent by post at the time of booking.
Where can I take organ lessons?
James has recently taken up the post of organist and director of music at Holy Trinity Weymouth in Dorset, where he is based.
How can I book?
To book James for lessons, concerts, ceremonies or services, please contact him using the form on the contact page.